State-of-the-art infrastructure facilities as world class software development lab
Huge cost saving
Flexible engagement options and most competitive
Quick deliverables of software products and services
Innovations for new technologies
Low cost of ownership (TCO) and rapid ROI
No initial capital investment
Dedicated development and support facility
High quality computing hardware, state-of-the-art software development environment
High-speed internet access
Dedicated lab set-up for trial hosting, testing and presentation
Secured access
Highly defined and implemented processes across teams to ensure quality, visibility and effective change management
Conducive Management Controls to ensure On-time, On-quality and On-feature delivery
Frequent internal reviews and client reviews
Complete control over the configuration of the work product baseline.
Including tracking configuration of each items, approving a new configuration if necessary and updating the baseline
Robust project management framework
Designed to accelerate project development cycle
Provide visibility and maximize ROI
With focus on quality assurance throughout project life cycle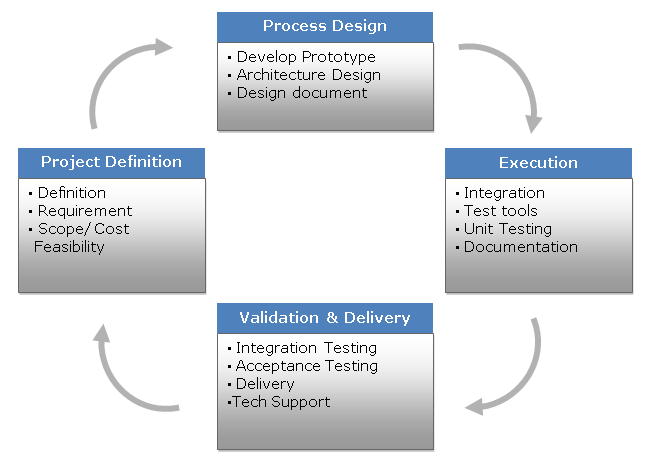 Time Frame : ( 2 -3 Weeks )
Searching :
Growing database of over 1000 professionals who seek career-enhancing opportunities through us in different career streams.
In addition to the CVs recorded by fax, mail and online, we have more than number of walk-in's on a day-to-day basis.
SIPL automated database allows for speedy matching of profiles with requirements and quick response time to client requirements.
SIPL's process of screening and validating candidates eliminates non-serious applicants, helping to find out right candidate.
Given a good understanding of the company and job profile to identify proper skill sets.
Executing Search assignments successfully within demanding delivery deadlines.
Employee Reference
Technical Skill Sets
Personal Skill sets
Social Family Background
Personal Face to Face Interview
Communication
Technical Test
Sample Project
Group Discussion
Reference cross check
Effective communication, outstanding quality and integrity is identify during this process.
Time Frame :( 1 Week )
IP Protection Letter
NDA
HR Guide Sign
Confidentiality agreement
Appointment Letter
Time Frame :( 1 Week )
Login ID to access SIPL/Customer Server.
PC with required IDEs and development environments.
1 week dedicated training to get familiar with SIPL Processes.
2nd week project Involvement

Live or
Offline depending on Project

Operation Director review

Than coaching, grooming, Soft Skills ( if required )
Motivate the employee
Provide Mentor
Retention and Churn rate
Health benefits
Extra perks
Project Ownership
Customer Ownership
Probation and permanent
Cross Functional projects and assignments
Personal Phone on Desk with EPBX extension line.
Email – Member of the SIPL Mail Server.
Personal Desktop Computer.
Voice mail ( For Seniors )
1 MBPS Bandwidth ( Can be upgraded to higher – depending on Projects)
Trainees / Jr. Back-office / Administrative / Support staff to assist Developers / Programmers
Centralized Repository for Projects Check-out / check-in
Print, Scan, Fax machines complete office supplies
Time & Attendance management system.
SIPL is having Intel Brand of Computers as a desktop connected with Server through 100/1000 MBPS back-bone network.
Remote Desktop Sharing and Windows Server 2003, Virtual Private Network within an organization to provide comfort and ease to our developers providing solutions at remote ends.
Communicating in English
Access to any person who is appointed for offshore project
US and UK match time
Back-office staff to support Front office Seniors
Payroll processing
Office Rent
Data Management and support
Utility payments like electricity, phone bills
Administrative expenses
Employee welfare
Recruitment cost etc.
Sapphire's core expertise is to establish Offshore Development Team for its clients. Through this model we serve our clients with highly experienced professionals with varied skill sets, resources, flexibility and time & cost-to market advantages allowing them to enjoy the long term gains of offshore outsourcing. Our offshore development team operates as an extension to clients' existing software engineering business. We strictly adhere to clients' business critical objectives; software engineering processes, communication and team structures are same as at client's end. Employees working in the Offshore Development Center are virtually
Sapphire offers a Fixed Price Business Model for projects where requirement specifications and time lines are clearly defined and frozen. This helps clients if they have a fixed budget for development and are sure about their requirements. We work with our client to define expected deliverables to determine a mutually agreed fixed price.
Sapphire's Time & Material Business Model offers its clients the flexibility to alter requirement specification, team size and time line of projects based on market trends and feedback. This model suits best for most of the projects due to software development project's inherent need of altering specification throughout the development life cycle. Client pays monthly fee per resource (development, testing or management).